Still little known to international tourism, Jaén is one of the gems of Spain.
Located in the northern part of Andalusia, bordered to the south by the provinces of Granada and Cordoba and to the north by the region of Castile-La Mancha, Jaén is popular for the production of quality Extra virgin olive oil.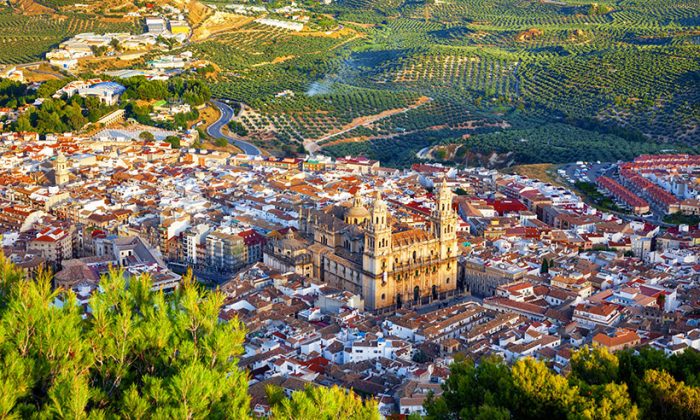 Its hills are entirely covered with olive trees, making Jaén the province that holds 20% of the world's olive oil production. In this region, rich in history and olive culture, Supremo is based, one of the family businesses, producers of quality extra virgin olive oil. Born in 2013, by two young entrepreneurs, Andrés García y Alberto Molinero, Supremo combines the passion and knowledge of the land with the contemporaneity of a young and successful marketing starting from the colorful, creative packaging that involves some of the best young Spanish artists .
A gourmet Extra virgin olive oil as told by Andrés García Gallego:
When and how  Supremo was born?
Supremo was born in 2013, in the beautiful city of Jaén (Andalusia, Spain). The reason for the birth of our brand is the understanding that Extra Virgin Olive Oil is a unique, healthy product and is also an authentic sensory pleasure and our land, Jaén, is the world capital of Olive oils, of all.
When you look at Extra Virgin Olive Oil you think that if this product and these possibilities had been in another country or in another area, we would possibly be talking about it being the most valued and profitable product in history. For many reasons, eight years ago, we were far from that, we understood that the City of Jaén and the province of Jaén needed projects that would make all Jaén feel proud, that's how Supremo is born, with that spirit. An EVOO made in October, which smelled of tomato, and which followed the witness of other producers in this defense of the excellence of this unique product.
We show that with regard to Extra Virgin we only need culture and knowledge, but if we put differentiated and unique products on the table, it is much easier to be able to defend what is ours with pride and make consumers much more demanding.
In which area of Spain is your company located and what is the characteristic of this geographical area, such as to make the olives and extra virgin olive oil you produce special?
Supremo works many different varieties, each one of the farms are in different locations in Jaén with very different atmospheric and thermal conditions. The Supremo Project has harvesters who are involved in the entire production process and obtain a fair price for the care and care of their olives. Our Royal and Cornezuelo de Jaén varieties are located behind Huelma, touching almost 1,000 meters of altitude. On the other hand, our Picual is located in the region of the Campiña de Jaén very close to Porcuna. Our production is spread throughout the province, that is why our Extra Virgins behave in such a different way and differ so much. A unique palette, for the work of our growers and the location of our farms.
Which cultivar do you grow on the farm?
Supremo grows up to six varieties. The three autochthonous ones of Jaén, the only company in the world that makes these three varieties, Picual, Royal (in Ecological) and Cornezuelo de Jaén (Ecological). In addition, we also work Arbosana for the sweet profiles, Hojiblanca and, this year, as a great novelty, Lucio. A variety that is increasingly being uprooted with trees whose age is well over 100 years old. In previous years we made EVOO of the Favolosa Variety, a variety that seems to be resistant to Xylella Fastidiosa. A constant commitment to technical innovation and the discovery of new varieties.
In some way, the art is related to its quality oil. Can you explain how?
Art is a fundamental part of Supremo. Our labels show the works of universal artists of our Province, from Paco Carrillo, to the Belin Graffiti Artist, passing through many others. So much so, that at Supremo we designed an art contest so that young artists can paint the labels on our bottles, a contest that this year will be nothing less than the fifth edition. In this way we achieve two things, to have an artistic collection in our bottles "made In Jaén" and also to value the art of our province. There are many brands that are committed to sports or other things, we are committed to culture.
Why is Supremo EVOO is special?
Supremo is a global bet, it is not just the oil, it is all that it entails. A daring design, a composition of colors that helps to remember the varieties, an adaptation with many formats for all types of consumers and is a commitment to the fifth ranges (caviar, jam, unfiltered oils and this year olives) that complete a bet 360 degrees.
Supremo does not pretend to be better than anyone else, it pretends to be Supremo, the goal is for the consumer to open a bottle to know that Supremo is not going to fail him and the EVOO will live up to the brand. We want each time someone opens a bottle of ours to be a little happier.
Supremo is a young and dynamic speech, but behind that youth and self-confidence there is technical instruction, there is knowledge of who has been training for that all his life. It is the perfect marriage between modernity and Agronomy.
SUPREMO
Polígono Industrial "Los Olivares".
C/ Villatorres, 37
23009 Jaén (SPAIN)
https://www.aceitesupremo.com/
E-mail: andresgarcia@aceitesupremo.com