---
The Wolf Post offers a professional service with free access, without subscription.
For this reason, a donation would also be a sign of appreciation for our work.
---
Okanagan Falls' name comes from the twin waterfalls that once existed where Skaha Lake flows into the Okanagan River before they disappeared in the early 1950s. At one time, the area was an important meeting and trading center for the local Aboriginal people. Subsequently, it was recognized as a privileged place for breeding and fruit growing.
In 1984, Agriculture Canada and the Association of British Columbia Grape Growers published an amazing book that is still referenced today. It included detailed maps identifying the best places to plant vines. Sites in and around Okanagan Falls have proven to have some of the best potential in the region.
The soils and topography of the area are characterized by hills made up of massive gravel, ideal for providing adequate drainage, and by steep slopes. The soils can vary greatly from vineyard to vineyard, with gravelly sites, some clayey and those classified as sandy loam.
Let's find out more from the words of Shawna Thompson, Coordinator of The Heart of Wine Country.
What are the peculiarities of the territory and its wines?
The Okanagan Falls/Skaha Lake Winery Association, Heart of Wine Country ™ is located in the Southern Okanagan Valley in British Columbia, Canada. One of the most photographed areas in the Okanagan, this area is considered semi-arid shrubland, with hot, dry summers and low risk of frost in autumn. It is relatively new to growing Vitis vinifera; some of the oldest vines were planted in the 1990s, and the first Farmgate wineries opened 1990. There are an average of 1400 growing days in our area. On its way through the valley, the glacier pushed silt and erosional deposits in its wake, leaving four very distinct geological areas or terroirs, two of which have official sub-Geographical Indicators (sub[1]GI) designation. Sub-GIs are similar to appellations, as used in other countries. The Okanagan Falls sub-GI was the second sub-GI recognized in British Columbia. In 2019, Skaha Bench was recognized as a sub-Gi. Both of these areas are on the East side of Skaha Lake. The vineyards on the west side of the lake, while not officially designated as sub-GIs yet, have very distinctive soil qualities that produce beautiful grapes. One of the most remarkable things about winemaking in British Columbia is that each winemaker is not constrained by one particular style. Each can create unique (and award-winning) expressions of their wine. Commonly grown varieties include Pinot Noir, Chardonnay, Merlot, Riesling, and Pinot Gris. There are some more uncommon varieties (in British Columbia), such as Tempranillo, Bacchus, Albarino, and Sangiovese, also grown here with great success.
What services/activities do you use to promote your wine region?
Many of our wineries participate in wine competitions nationally and globally. As an association, we host an annual Spring Release in Vancouver, four hours to the south. This fantastic event where our member wineries travel to Vancouver and pour their wines for members of trade and media as well as a consumer portion. The best part of the event is that the people pouring the wines are the founders of the wineries, the winemakers or the Visitor Experience Managers. The people who are the heart behind the wine are introducing their wines. We also host "Celebrate Spring" in May and "Holiday Cheer" in November, where our wineries host unique experiences at their sites. Some wineries offer library tastings of a particular wine, and another might offer food pairings. There are also artisan spring-up markets. These are well-attended, highly anticipated events. Our association partners with a non-profit organization to put on an outdoor party in July called Fralik in the Falls. Fralik offers people a chance to taste wine and have a gorgeously catered meal with the backdrop of scenic vine-covered mountains and pristine blue lake, followed by an evening of dancing under the stars. We are currently working on updating our website and transforming it into a more user-friendly application.
Can you briefly describe the areas of cultural and wine tourism interest of the Wine Region?
Our region is known for its summertime festivals, such as PeachFest and the Music 97 Festival in Penticton, and our athletic events, such as the Subaru Ironman. There is always something happening throughout the summer months. With multiple warm, clear lakes, and hot summers, our area is a major tourism destination during the summer. In winter, many people come to ski our steep slopes and champagne powder snow. Our region is home to a diverse heritage: the Indigenous people in our area, the Sylix Okanagan Nation, have made their home here from time immemorial. The Osoyoos Indian Band manages sx̌ʷəx̌ʷnitkʷ Park just outside Okanagan Falls. Several archaeological and cultural sites and landforms near this campground are significant to the area's history.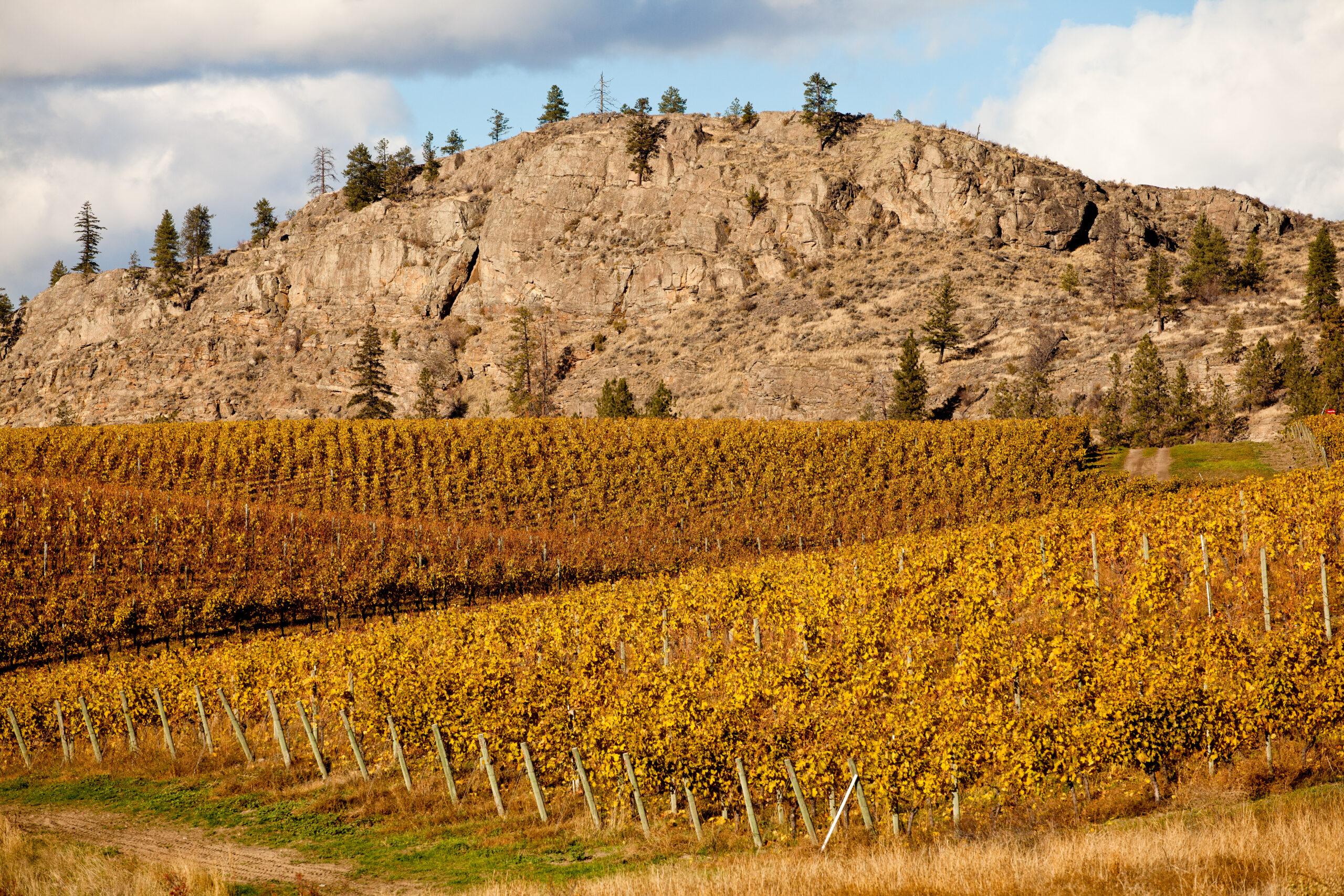 How many wineries are there in your Region and what type of wines are produced?
We have 14 member wineries in our association at the moment. Within our area, the most commonly produced wine is Pinot Noir, Chardonnay, Pinot Gris, Riesling, and Merlot. There are also more experimental varieties, such as Tempranillo, Albariño, and Sangiovese. Many wineries produce sparkling wine, some in a traditional method style, others a prosecco style or a Meritage wine, which in North America, is a blend of two or more of the red "noble" Bordeaux varieties.
Why are the wines of the Heart of Wine Country region so special?
Our area is remarkable for its growing conditions and rugged beauty, and it is home to some of the most genuine people in the wine industry. When you visit our wineries, you will encounter the people who built the wineries. The people who make the wines. The people who had the vision to turn the sagebrush-covered slopes into vineyards. These same people are delighted to share their stories and wines with you. We invite you to come and spend some time with us, where our wines are handcrafted by people with big hearts.