---
The Wolf Post offers a professional service with free access, without subscription.
For this reason, a donation would also be a sign of appreciation for our work.
---
Missouri's winemaking history began in 1850 when, over a decade, settlers founded nearly sixty wineries in the Hermann area, producing more than 10,000 gallons of wine a year, thanks to fertile and generous soil.
Another further step took place at the end of the 19th century with Italian immigrants who established vineyards in the St. James area. At the time, the Missouri wine industry was thriving with about a hundred wineries scattered across the state.
With the first international awards won, the fame of Missouri wines grew not only in the United States but also outside the national borders.
If in 1919, with the beginning of prohibition, many vineyards were destroyed and the cellars closed or converted to other activities, the sixties and seventies of the last century marked the rebirth of Missouri viticulture. A very small-scale renaissance, thanks to the hard work of two families who brought the sector back to life in their communities.
In the eighties of the last century, Augusta became the first American wine growing area (AVA), recognized at federal level. The same was true of the wine regions around Hermann, the Ozark Mountains and Highlands of southwestern Missouri, the south-central region around St. James, and the Loess Hills of northwestern Missouri.
In 2005, the Missouri Wine and Grape Board was established with the task of disseminating the culture and excellence of the territory and researching the Missouri wine industry.
In 2011, Missouri welcomed its 100th winery.
Jim Anderson, Executive Director and Annette Alden, Marketing Director of Missouri Wines tell the story of this magnificent reality.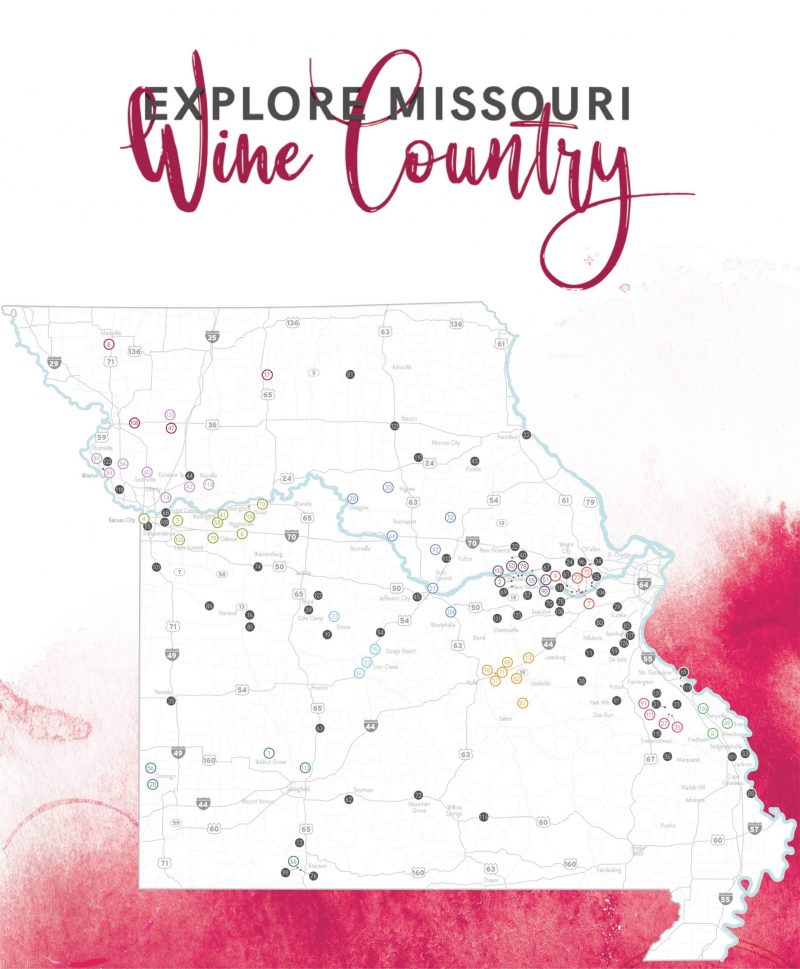 ©Missouri Wines-Winery Guide Map
What are the peculiarities of the Missouri territory and its wines?
Missouri has five American Viticultural Areas (AVA), each with their own distinctive soil, weather and historical significance that produce unique, award-winning wine. The Augusta AVA was actually the first AVA designated in the United States. Much like any wine region, the terroir and winemakers' style enhance and create a unique tourist experience for visitors.
What services/activities do you use to promote Missouri Wines?
Our board uses a variety of tactics to promote the wine industry in Missouri. Personalized tasting experiences are helpful to expose new audiences to our unique varietals we produce. Our content marketing strategy helps educate new audiences online using social media platforms like Facebook, Instagram, Twitter, Pinterest and TikTok. We strive to make wines approachable while encouraging followers to try something new and explore all that Missouri wine country has to offer. We also partner with various organizations to jointly promote our industries. For example, each year we coordinate the Farmers' Table wine trail event in Hermann, MO to highlight and pair the wines alongside the various commodities grown in our state. Each of the seven wineries on the trail pairs their wines with a specialized menu item like corn, beef, pork or dairy. Participants can take a trolly to and from each winery to sample the wines and explore the region.
The board also curates a loyalty program called the Missouri Winery Visitors Program or "MVP" to encourage tourists to visit new wineries and explore new regions that may not have otherwise visited. We currently have more than 11,000 members who have logged upwards of 135,000 visits in the program.
Could you briefly describe the areas of wine tourism interest of your region?
We are proud to promote eleven distinct wine trails that span from east to west across the state. Many of the wineries are located along the picturesque Missouri river valley. Hermann is known for its rich German heritage, dating back to the early 1840's while St. James is known for its Italian population and Ste. Genevieve Missouri was founded by the French and was the state's first settlement in the early 1700s.
Most recently, the Augusta region has undergone several tourism enhancements to attract traffic and encourage guests to extend their stay in the region. Annually Missouri wineries attract approximately 1 million visitors.
What are the goals set for the near future to spread your excellence more and more both nationally and internationally?
Our board plans to conduct additional research in the coming months to explore consumer wine preferences. Once we have that data we hope to work with the Grape and Wine Institute (GWI) at the University of Missouri to identify more grape varietals that are suitable for Missouri's growing conditions to align with consumer demand.
We are also positioning ourselves to better support our existing and new wineries. In order to grow and expand our industry we realize wineries need a strong source of expertise in marketing, viticulture and enology. GWI provides educational resources and consultation services to wineries for vineyard site selection, vineyard management and methods to enhance wine quality. Our marketing team is working on resources and training exercises for training winery staff and materials to promote the opportunities at the winery.
 Why are Missouri Wines so special?
The extreme weather conditions in Missouri present many challenges for grape growers. Grapes are subjected to prolonged periods of freezing temperatures in the winters and hot humid weather in the summer. In Missouri we primarily grow American and French-American hybrid grape varietals which can withstand the wide fluctuation in temperature. Examples of our grape varieties include Chambourcin, Vignoles, Vidal Blanc, Seyval Blanc, Chardonel and Norton.
These grapes are extremely versatile and can be used to make many different styles of wine. Many talented winemakers may utilize the Vignoles grape to make a dry, semi-dry, sweet or even dessert style wine. Chambourcin is often known for its medium bodied herbaceous dry red wines but more recently has also been used to make fresh and lively rosé style wine.