---
The Wolf Post, supported by a Cultural Association, offers a professional service with free access, without subscription.
For this reason, a donation would also be a sign of appreciation for our work.
---
Ilok, in Croatia, is an ideal place for growing grapes, given its extraordinary pedoclimatic conditions. In Ilok, the vineyards are located in the rolling hills surrounding the city and wineries are located in every street of Ilok, a unique feature of its kind. This combination has created a very special wine route.
The vineyards are easily accessible and the cellars can be visited as the winegrowers and cellar owners have opened their doors to guests.
The old cellars of Ilok (Stari ilocki podrumi), located in the medieval old town are a must visit and not only for wine lovers. They were built by the Odescalchi princes in the 16th and 17th centuries. Today they are owned by the Ilocki podrumi company.
Ilok is known for its traminac and silvanac, which were served at the English court during the coronation of Queen Elizabeth II.
Let's find out more in this interview with Ivica Miličević, director of City of Ilok Tourist Board.
In which part of Croatia is Ilok located?
Ilok is located in the continental part of Croatia, it is the easternmost Croatian location, situated between the  bank of the Danube river and slopes of Fruška Gora hill. In winegrowing terms, we are officially the Ilok-Srijem wine region and part of the Danube wine region.
What are the peculiarities of the territory and its wines?
Between the extraordinary soil and climate conditions with a lot of sun, and the wine, stands a man: the wine-grower and worker, the Syrmian, who "serves" his vineyard all the year round so that later in his cellar he can cultivate a product which he will offer to his visitors hospitably.
Wine growing and production have had an uninterrupted tradition of almost 1,800 years in the region of Ilok. In the 3rd century, after the Roman Emperor Probus abolished prohibitions that had been in force on wine growing and production in the Pannonian regions and introduced new varieties, the wine-growing hills of Ilok received an impetus for development.
The Odescalchi dukes reaffirmed the position of Ilok as a quality  wine-growing region. In the 17th century, they built unique cellars underneath the Odescalchi castle, planted even more quality varieties like Traminer, Italian riesling (in Croatia we call it Graševina), Chardonnay, Rhein riesling, Sauvignone, Blaufränkisch, Cabernet S.,  and other.   We are mostly white wine area, about 60-70% of total.
Ilok is especially famous for its traminer, which was served at the English Court at the coronation of Queen Elizabeth II. in 50s. From that time and still now Ilok traminer is part of the royal wine list and vinothek. For that, somehow Ilok traminer became known and popular as "royal" wine.
Connections with British royal family are constant, for example for the occasions of wedding of Prince William and Prince Harry our wine was also present there, and for the official visit of prince Charles to Croatia, our president in that moment Kolinda Grabar Kitarović, gave him official gift –  a special archive Ilok traminer.
Recently, the princess of York was here, in the old cellar.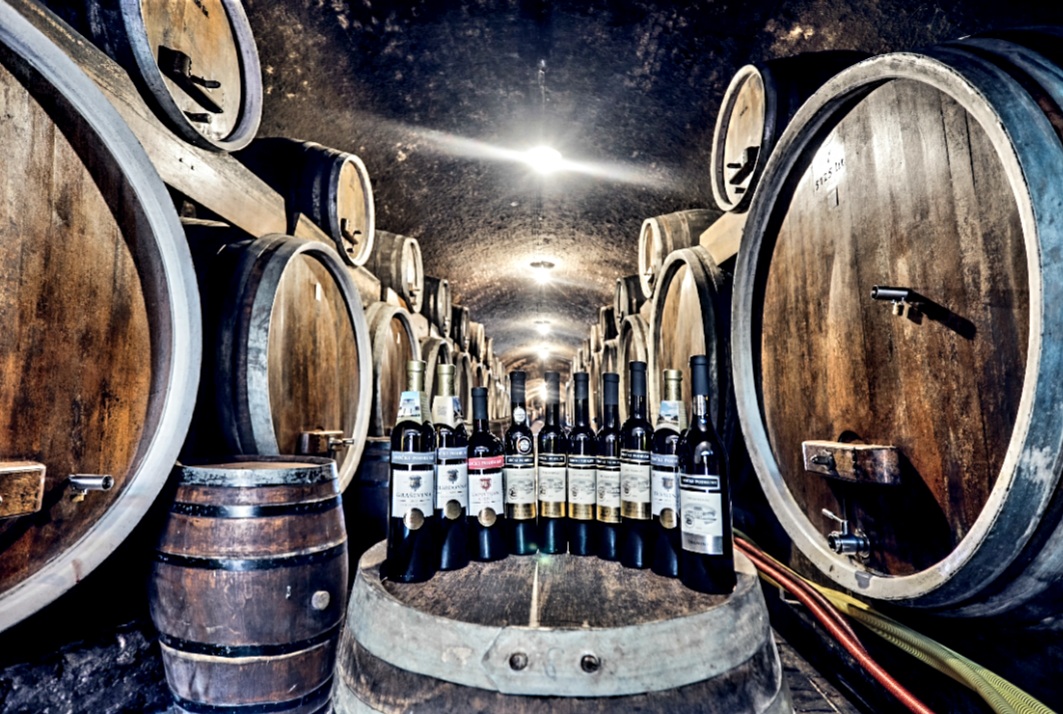 ©Ilok Wine Road-Ilok_vinarije 028. old cellar _ from 15th century-Ilocki podrumi company
Through what activities do you promote your region?
Mostly through common activities which are part of the Croatian Tourism Board, county and local  policy, which include: communications with the market, advertising, fairs, presentations and events (in and out of Ilok), web and social media, and additional special wine PR with county tourism board from time to time.
Can you briefly describe the areas of cultural and enotourism interest of  the Ilok Wine Road?
Attractive heritage, history, the fortress and walls, the oldest cellar in the region, the restored Odescalchi castle, which today houses the Museum of the City of Ilok, the modern Interpretation Center – "Ilok the Gate of Croatia" in the former manor house, the church and monastery of St. John of Capestrano (Giovanni da Capestrano), Ottoman monuments – turbes and hammam…, a real discovery for travel enthusiasts.
An integral part of Ilok's wine-cultural itinerary are the unique old cellars from which the aristocratic Odescalchi family bottled wine in special packages almost 200 years before Bordeaux and Burgundy, and in this way protected their reputation from resellers who mixed it with water or wine of inferior quality.
Pairing dishes with Srijem cuisine in our restaurants is an experience for gourmets and wine lovers.  Ilok is a small place, with 26 wineries, cellars are almost in every street and surrounding nature of vineyards, one can fast and easily reach every spot. The endless vineyards on the slopes of Fruška Gora, which descend towards the Danube create memorable landscapes that, along with the views of the old town, remain as a unique aesthetic figure in the memory of every visitor, in addition to the taste, smell and pleasure of Ilok wines, for which many return.
What is the goal set for the near future to spread your excellence more and more internationally? 
At first, using Traminer from Ilok as one of the brands and highlights of croatian wines,  improvements in choice of wine, special presentations and promotion, new type of small special events (for example for visitors from the river cruise ships), adopt wine tourism to niches like hiking, wellbeing, slow tourism and promotion through "Srijem wine stories" and "Danube wine route" (which is in fact a certified transnational cultural route along with the Roman)  and improvement of tourism destination in general with more branding in which stands the world known Danube river.
Why are the wines of the region so special? 
In addition to the many and varied, fresh, well balanced, potable wines in such a small area, the terroir, and the proven best Traminer in this part of Europe (we have 8 different variations of traminer), it is our human factor, people – winemakers, who are the key to the uniqueness of what the visitor of the wine route ultimately experiences, because the wines are proven by many awards to be excellent, but its producers – Ilok winemakers and winegrowers – give it an additional bonus. Some of the famous Croatian winemakers live and work in this part of Croatia, modest and hardworking, they respect nature, vines and wine.
In the cellars there are masters who have gained experience and knowledge for generations, and they are hospitable hosts to their guests. Here, wine is an integral part of cultural identity, an inseparable part of life, with it you grieve and rejoice, you don't drink it, you enjoy it. Ilok and its wines have always intrigued visitors who are not satisfied with only great wine, but also look for "that something" extra in the experience of a wine destination.