---
The Wolf Post, supported by a Cultural Association, offers a professional service with free access, without subscription.
For this reason, a donation would also be a sign of appreciation for our work.
---
Greece, a wonderful glimpse of the world, with an ancient and noble history, celebrated by philosophers and writers, is the destination of one of the most flourishing tourism in the world.
The crystal clear waters of its seas, its natural cuisine, rich in local delicacies, from cheeses, Extra virgin olive oil, and legumes make it perfect for a dream stay.
Yet Greece is much, much more. It is a land that, even in the wine sector, offers excellences that deserve to be visited and tasted.
Wine Roads of Greece allow the visitor to create real food and wine to discover not only the wonders of the landscape but also the best Greek wineries to discover unforgettable knowledge and flavors.
Let's find out more from the words of Sofia Hollo.
Since Wine Roads of Greece were established, which goals have you achieved and which ones still need to be achieved?
Our aim is to promote Greek wines and provide unique gastronomic experiences via our tours. We have strong links with the most prestigious wineries, having developed excellent personal relationships with the wine makers.  Our bonds are not only professional, but we are also very fortunate to consider them as friends. Our strong relationships ensure better service and flexibility when we cater for requests and customer preferences.
We can provide wine tours covering all of Greece and we can customize these tours depending on our customers requests.
While our service is strong and well regarded, we need to work more in promoting our brand, and our reputation.  We are confident that we can reach the point where if someone thinks of 'wine tours in Greece' their mind will turn to us in an instant.
Through which services/activities do you promote the dissemination of Greek wine roads?
We are using Instagram, Facebook, TripAdvisor, a wide range of online travel agencies as well as the more traditional medium of brochures and promotions by hotels in Greece.
What are some of the unusual characteristics of the territory and its wines?
Greece is a big country, with several islands, and a large mainland. Every part of Greece has a different identity, topology and local wine tradition. We can broadly consider five main areas: Mountainous, semi-mountainous, Coastal, Continental and Volcanic.  The Northern part of Greece produces fantastic "Xinomavro" – a local term which corresponds to the Greek Pinot Noir. Central Greece is famous for its Athiri, Savvatiano, Assyrtiko Syrah, and of course the traditional Retsina (a much higher quality wine than the Retsina traditionally exported internationally).
We can then find Nemea – the biggest wine region in Greece located on the Peloponnese. This area produces a fruity and tannic red wine called Agiorgitiko and a very aromatic and famous white wine called Moschofilero.
Last but least, Santorini is one of the most famous wine regions in Greece. Well known for its volcanic soil, it is also home to the interesting vine growing technique called "koulouri" and the famous sweet wine called "Vinsanto".
Can you briefly describe the 'roads' and which territories of cultural and wine tourism interest it crosses?
We are offering a wide range of tours.
Daily trips departing from Athens are ideal for visitors who are spending only a few days in Athens but who still want to taste and learn about the famous Greek wines of the area.
Most of our one-day trips are designed with this in mind but they offer complete experiences. We include winery visits, wine tasting experiences (such as chocolate and wine pairings with exclusively made chocolates), and lunch in a traditional restaurant or a home cooked meal served in one of the wineries.
During such one-day trips, our visitors can also visit Evia Island and the Valley of the Muses, the vineries around Athens, Nemea or Achaea, a unique territory with slopes facing the North and the sea.
Our longer trips span over a week offering our guests plenty of opportunity to choose between our mainland destinations and experiences. Our long trips can include a guided experience across the wine slopes of Northern Greece, or a week-long trip exploring the Peloponnese. This experience allows our guest to taste amazing wines from Nemea, Achaea, etc. but it also offers allows guests to take part on a fishing trip, enjoy unique wine pairings, cooking classes and even a visit to the historic and original Greek capital of Nafplio, the ancient theater of Epidaurus, the magical city Monemvasia and many others. During our island hopping we offer 2 islands where wine experiences can be combined with a relaxing holiday on Santorini and Crete, or alternatively Zakynthos and Kefalonia.
While offering guests a chance to relax, we also organize several winery visits and a sunset tour in Santorini (renowned to be one of the most romantic sunsets on Earth). Our guests can also enjoy cooking classes (Especially with a glass of wine in hand), food and wine pairing evenings taking place at a wide range of traditional as well as fine dining restaurants on the island.
It is also important to note that we are also offering custom made wine tours, including tours for wine professionals/ sommeliers.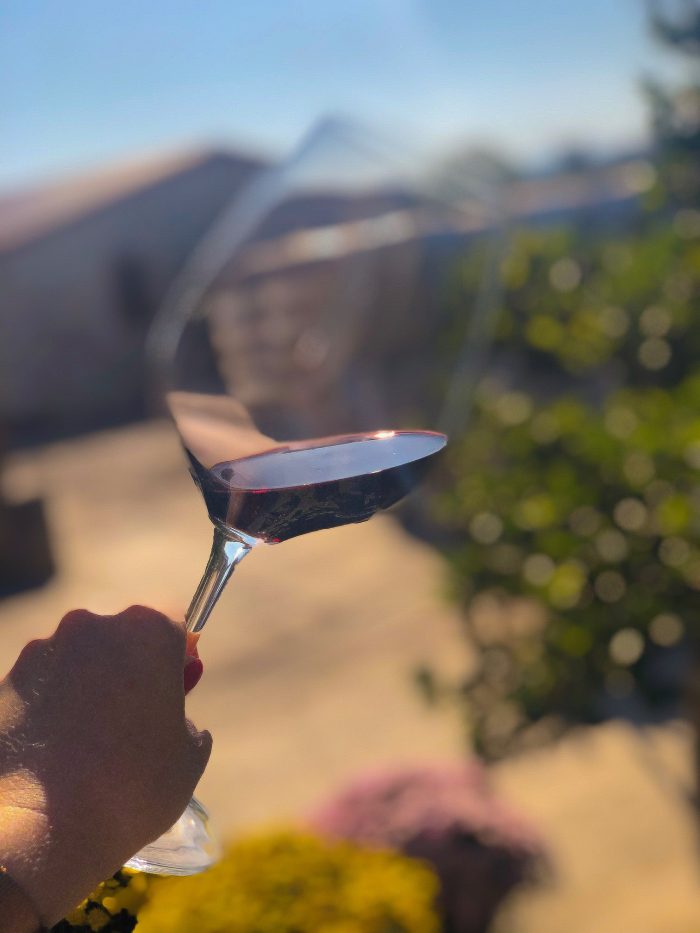 ©Greek Wine Roads
Why choose the Greek Wine Roads?
Because what we do is our passion, and we guarantee to give our best for an unforgettable experience!