The Willamette Valley, Oregon's premier wine region, with two-thirds of the state's wineries and vineyards and nearly 700 wineries, is recognized as one of the world's premier Pinot Noir producing areas.
The Willamette Valley, named after the river, comprises nine appellations: Chehalem Mountains, Dundee Hills, Eola-Amity Hills, Laurelwood District, McMinnville, Ribbon Ridge, Tualatin Hills, Van Duzer Corridor, and Yamhill-Carlton.
The climate with warm summers and cool evenings, a long autumn with the first rains but also abundant sunny days, and mild winters followed by long springs is ideal for winemaking. In addition to the Pinot Nero flagship grapes, the wineries also produce Pinot Grigio, Pinot Bianco, Chardonnay, Riesling, Melone, Gewürztraminer, sparkling wine, Sauvignon bianco, Syrah and Gamay.
Willamette Valley Wineries are a unique tourist destination with luxury resorts, delightful bed & breakfasts, and restaurants.
Let's find out more from the words of Julia Burke, the Association's Communications Manager.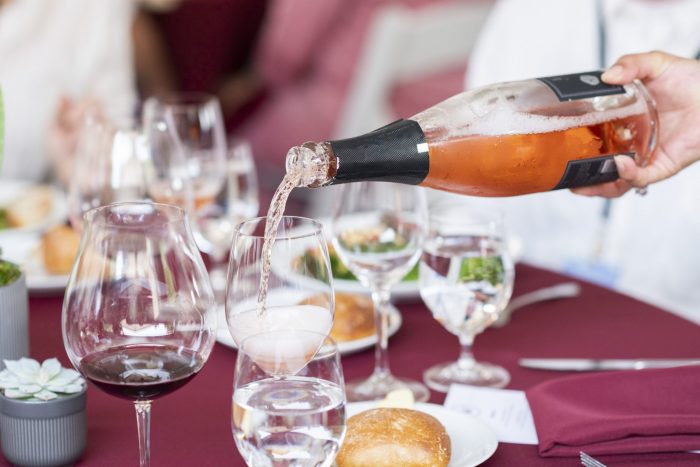 From when the Association was born to date, what goals has it achieved and which still have to be achieved?
Our Association was founded as the Yamhill County Wineries Association in 1986 and became known as the Willamette Valley Wineries Association in 2004. From the start, our mission has been to promote, preserve and advance the prestige of Oregon's Willamette Valley AVA and its wines. As our organization has grown (we have around 250 members this year) we have succeeded: the Willamette Valley is now recognized worldwide as a premier winegrowing region. In fact, we are bursting with pride to announce the achievement of a decade-long goal: in June of this year the Willamette Valley was recognized by the European Union as a PGI wine region.
In response to our successes we have expanded our mission, adding specific commitments to our surrounding community and to environmental sustainability. Toward these goals we created a Diversity, Equity, Belonging and Inclusion Task Force in 2019 and began a partnership with McMinnville Habitat for Humanity in 2020 to build a house for a wine country family in need. We just announced Monday that we met our fundraising goal for the house!
Through which activities do you promote the dissemination of the Willamette Wine Region?
We promote the Willamette Valley Wine Region and our member wineries through educational programs and events such as Pinot in the City and Oregon Pinot Camp (which had to be put on hold during the pandemic but are returning in 2022); seasonal campaigns like May in Wine Country and The Giving Season that feature winery events and offers; virtual educational events throughout the year; Willamette: The Pinot Noir Auction, which brings top trade buyers to our region to purchase unique lots of Pinot noir and Chardonnay; and of course our website (www.willamettewines.com), where we strive to maintain a one-stop tourism, education and marketing resource for all visitors and members of the media and trade. We also regularly communicate with the media and members of the wine industry, answering questions and providing contacts and resources.
 What are the peculiarities of the territory and its wines?
The Willamette Valley was founded as a Pinot noir region, and the vision of our founding wineries has borne out over the last 50+ years thanks to a combination of key factors, both geologic and human. Geologically, the Willamette Valley is tucked between two mountain ranges: the Coast Range to the West, which protects us from the more extreme cold rain and winds of the Pacific Ocean, and the Cascade Mountains to the East, which shield us from the desert-like conditions of Eastern Oregon. Many people associate Oregon with constant rain, but the reality is that most of our rainfall happens in the winter. Our growing season is quite dry––often wrapping up with a beautiful period of cool, even ripening in September and October that results in really complex flavors.
The region frames the Willamette River and, thanks to a particularly active geological history, boasts a wide variety of soil types within the broad categories of volcanic, marine sedimentary, and windblown. With its many soil types, varied topography (vineyard elevations typically range from 200 to 1200 feet) and relationships to the mountains and rivers around us, the Willamette Valley has a moderate maritime climate and a perfectly diverse environment for the expressive Pinot noir grape, as well as Pinot gris, Chardonnay and more. Within the Willamette Valley are nine nested AVAs (American Viticultural Areas): Chehalem Mountains, Dundee Hills, Eola-Amity Hills, Laurelwood District, McMinnville, Ribbon Ridge, Tualatin Hills, Van Duzer Corridor, and Yamhill-Carlton. Each has its own associated geographic features, particularly with relation to our mountains, rivers, soils and general topography.
Our human resources are the second key to our success. Our community has always been incredibly collaborative, sharing knowledge and equipment to establish a wine infrastructure where one did not exist before the 1960s. Our pioneer families also worked to establish laws that protected land use and restricted the blending of Pinot noir and other varieties more strictly than any other such wine laws in the United States. French wine families (and more recently some Italian winemakers!) have come to the region since the 1980s to bring their knowledge and demonstrate their faith in the potential of the Willamette Valley. And today's innovators are experimenting with all sorts of grapes and techniques so that our region is becoming known for varieties like Gamay, Syrah, Pinot meunier and Chardonnay, as well as sparkling wine, Gruner Veltliner, Melon de Bourgogne and more! We even have wineries making Lagrein and Sangiovese among other varieties made famous in Italy. Through it all, of course, Pinot noir remains our signature grape.
Can you briefly describe the route and the territories of cultural and enotourist interest that it crosses?
The Willamette Valley of Oregon reaches more than 100 miles from the beautiful and captivating city of Portland to the fun university town of Eugene. Our 250-or-so members include wineries, hospitality businesses such as restaurants and hotels, and transportation companies offering personalized tours. Among the wineries you can also find art galleries (some wineries even have their own art displays), museums, hiking trails and nature preserves, outdoor sports opportunities and more.
Many people enjoy combining their trip to the Willamette Valley with visits to some of the region's other gems: Mt. Hood, with its skiing, mountain biking and hiking trails; the Oregon Coast just 50 miles west with its beaches and forests; and of course the city of Portland with its numerous live music venues, breweries, restaurants and parks.
Why choose the Willamette Wine Region?
We often hear from visitors and members of the trade and media that the Willamette Valley's relaxed, casual energy is a welcome break from more expensive and heavily toured regions in the US. We're happy to be able to offer a wide range of price points, from everyday wines to once-in-a-lifetime library bottles. Our wineries are often pet-friendly, bike-friendly and family-friendly, showing off our love of community and our appreciation of the many ways visitors may wish to experience our wineries. Our natural, year-round beauty and mild climate mean there's never a bad time to visit. On a personal note, I moved to the Willamette Valley four years ago to work a harvest in the Dundee Hills. I decided that something very exciting was happening here with the wines and the regional identity, and I wanted to be part of it. I still feel that same momentum, and I love seeing the looks on visitors' faces when they feel it  too!
---
The Wolf Post is free, always without paid content.
It is supported by a Culture Association.
Yet, your contribution would also be a sign of appreciation for our work.
---