The Crescent Imports logo is the crescent moon, a symbol of rebirth and new life cycles. Just like it happened to Rafael and Daniel, founders of the company, who arrived in New York in 2002 to learn more about studies in economics and, soon after, starting a career in finance. In 2019, after ten years in the world of finance, Rafael and Daniel decide to turn their passion for wine and food into a job.
With roots in Chile, Daniel had thought of expanding the Chilean wine offering in the United States and introducing a new generation of extraordinary winemakers to the American public.
Thanks to strong links with Spain, via Mexico, Rafael had thought the same with regard to Spanish wines in the United States.
Their combined experience gave birth to Crescent Imports, a young yet already relevant reality in the export of Spanish and Chilean wines.
Let's find out more from the words of Rafael Cervantes, founder with Daniel Minzer of  Crescent Imports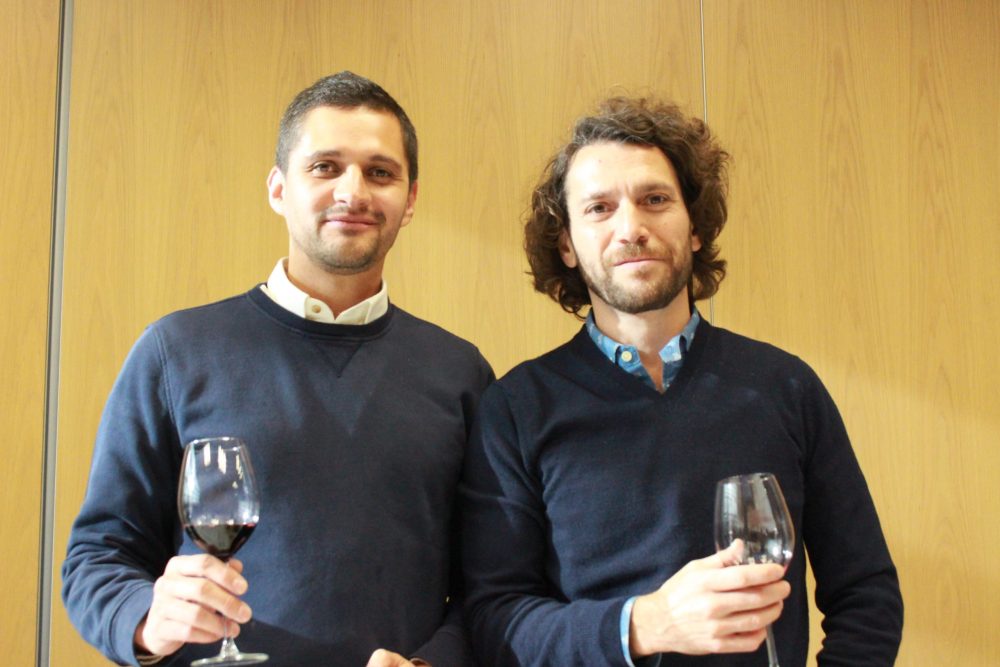 ©Crescent Imports
When did you decide to create a wine import company and why did you choose to dedicate yourself to Chilean and Spanish wines on the US market?
The answer to this question is worth a bit of background on each of the founders of Crescent Imports, Rafael Cervantes and Daniel Minzer (alphabetically sorted).  We both were born in Latin America, Mexico and Chile, respectively.  Rafael comes from a family of Spanish immigrants (Asturias) and Daniel was born in a Jewish family in Chile and later moved to Venezuela.  We both always lived in an environment where food and wine were at the center of family reunions.  We truly believe this is one of the seeds that started this venture of ours. Fast forward to 2002, we both moved to NY to study an MBA at Columbia and NYU.  Upon graduation we both joined the hordes of wall street bankers.
The crisis of 2008 threw us both to a Japanese bank where we met and worked very closely to build a new team from the ground up and made it one of the most successful teams in the bank.
A few years later, Daniel moved on to another bank and some time in early 2019 we both found ourselves tired of the corporate banking world and thinking of reinventing ourselves.
One day, enjoying lunch (and wine, of course) we started discussing our plans for the future.  Daniel shared that he found it hard to believe that it was so hard to find good Chilean wines in the east coast of the USA.  Knowing the quality that Chilean producers were delivering he wanted to bring a small piece of that world to NY to share with this educated part of the country.  Rafael mentioned he had a similar concern regarding Spanish wines, where Rioja was well known besides a couple of other appellations (Ribera del Duero, Priorat, but not much more).   The conversation started growing and we decided to venture into the wine imports business.  We concluded that Chile and Spain were the right way to start given our links with each country and how well they complemented each other.
Today, we have a focused, but deep, portfolio that includes 40 different labels.  We are in the process of incorporating a couple new things.
Compared to your beginnings, how has the demand for Chilean and Spanish wines evolved in the US? Is there a greater knowledge on the part of your customers or do they trust exclusively your experience?
The answer is not simple.  We formally started our business in July 2020.  No need to explain how complicated our start was, but here we are still.
At the time we started, the market was not what we initially planned to serve and we have had to adapt to a rapidly changing environment. Restaurants are now active again and wine shops are extremely diverse.  What we can say about the market we serve is that we can confirm what we suspected all along: consumers in NY and around are diverse, educated and in constant search for new, high-quality wines from each region.
Chile and Spain are known countries, but our consumers are constantly surprised about some of the things in our portfolio. For example, people have been pleasantly surprised by the biodynamic wines from Chile, a Moscatel de Alejandria from the Araucania region, a different face of Malbec, a Sauvignon Blanc that is very close to a Sancerre.  Out of Spain people are enjoying learning about new varieties such as Bobal, Godello, or different appellations such as Navarra, Utiel Requena, Calatayud, Somontano, all of them producing really good wines.
We are sometimes surprised by the knowledge of some wine stores that immediately understand our products, but we also enjoy walking to places and talking with people that are eager to learn about new things and try some of the things that our producers are sending to our region.
Are there wines more in demand than others, perhaps coming from specific Chilean and Spanish regions, or does the good name of those wine regions, regardless of the geographical area, win?
We do have a couple of top sellers, mainly from Spain.  Our sparkling wine is becoming more and more popular and our fresh wines from Rueda are rapidly becoming crowd pleasers.  However, now that we are enjoying some sort of normalcy and tastings are back and people are more willing to meet in person to try new things we are starting to see more interest in some of the "different" things that make up our portfolio.  We expect our anchor regions in Spain, Rioja, Ribera del Duero, Rueda, and Rias Baixas to keep opening markets for the other wines in the portfolio.
What factors influence the choice of the North American consumer when buying Chilean and Spanish wines?
A few variables determine choices and it depends on which segment we are serving.  Among a few of the considerations we see are the following:  varietal, price, organic, biodynamic, women made, appellation (for Spain).
According to what qualitative and opportunity criteria does CRESCENT IMPORTS select the companies to be positioned within the US market?
Relations play a big role in how we select our products.  We traveled extensively through Spain and Chile meeting with the producers and trying their products.  We first listen to their story, evaluate their products and finally we put weight into the "chemistry" between us.  This has worked out very well as we see this as a long-term investment and not as a transactional relationship with our producers as well as our clients.  We need to trust our partners and we need them to trust us back.  We put a lot of time and effort on this front and that is how we think we'll be able to build a long-term business.
Over the course of your career, did it happen to you to overestimate wines that did not have the expected response in the US and, vice versa, underestimated labels that turned out to be successful?
Of course, as I mentioned before, the market we are now operating in is rapidly changing so some of the assumptions we have made about some of our wines have not exactly played out as we expected.  We are now in the process of making a few changes to the portfolio to adapt to some of these changes and I have no doubt that we will have to make changes in the near future.  We know this is an evolving market.  Just as seasons change people in this region are constantly on the move and always trying to find new things to keep them entertained.  Moreover, the wine world is too big to ever be bored so we are always trying new products that we hope will become the new big thing in our region.
What are CRESCENT IMPORTS's medium and long-term goals?
Finally, after two long years in this business we start to feel some normalcy and we feel we are finally starting to harvest the fruits of our labor.  We just started distribution in NJ and we are in talks to begin distribution in Connecticut.   We are also eying Washington D.C. and hopefully Florida in a not-so-distant future.  We have a few projects brewing,  but we rather keep them as a secret and share them with you once they materialize.  We can share that we have big dreams for this business and we hope to reach 10,000 cases some time next year.  Long term, we might consider products from other countries such as Mexico, Argentina, Uruguay, Portugal or who knows, some new market.  We'll see, but for the time being we are enjoying the ride.
---
The Wolf Post is free, always without paid content.
It is supported by a Culture Association.
Yet, your contribution would also be a sign of appreciation for our work.
---