---
The Wolf Post offers a professional service with free access, without subscription.
For this reason, a donation would also be a sign of appreciation for our work.
---
Credits: © Piero Pardini – The Wolf Post – TOSCANA – ITALIA
Vino: Taurasi Riserva
Varietale: 100% Aglianico.
Denominazione: Taurasi D.O.C.G..
Titolo alcolometrico: 15% vol.
Annata: 2014.
Bottiglia numero: 0689.
Temperatura di servizio: 18°- 20° C.
Tasting Notes
Nel bicchiere il campione si presenta limpido, dal luminoso colore rosso intenso con levi sfumature granate, di buona consistenza.
All'esame olfattivo regala un bouquet di profumi e sentori ampio, intenso e di qualità fine. Sono i profumi di fiori rossi moderatamente appassiti ad aprire l'esame, seguono assuefacenti sentori di frutta matura scura: ribes, mirtillo, mora, ma anche prugna quasi in confettura. Completano l'avvolgente bagaglio di profumi evidenti note di spezie di chiodi di garofano e polvere di caffè appena macinata.
Il sorso è ricco, opulento, importante. Ben bilanciato nelle sue componenti, dona al degustatore un tannino importante e ben levigato. Buona la persistenza gusto olfattiva, permane in bocca un piacevole sentore di spezie e una delicata nota balsamica.
Un vino importante, espressione del territorio, provato con selvaggina alla brace, una piacevole scoperta.
Valutazione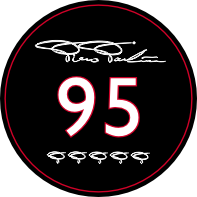 —
Altre etichette dell'azienda in Guida (Di)Vino
—
Antica Hirpinia
Contrada Lenze SP52 km4
Taurasi (Avellino) ITALY
Phone: +39 0827 74730
E-mail: info@anticahirpinia.it
Website: www.anticahirpinia.it